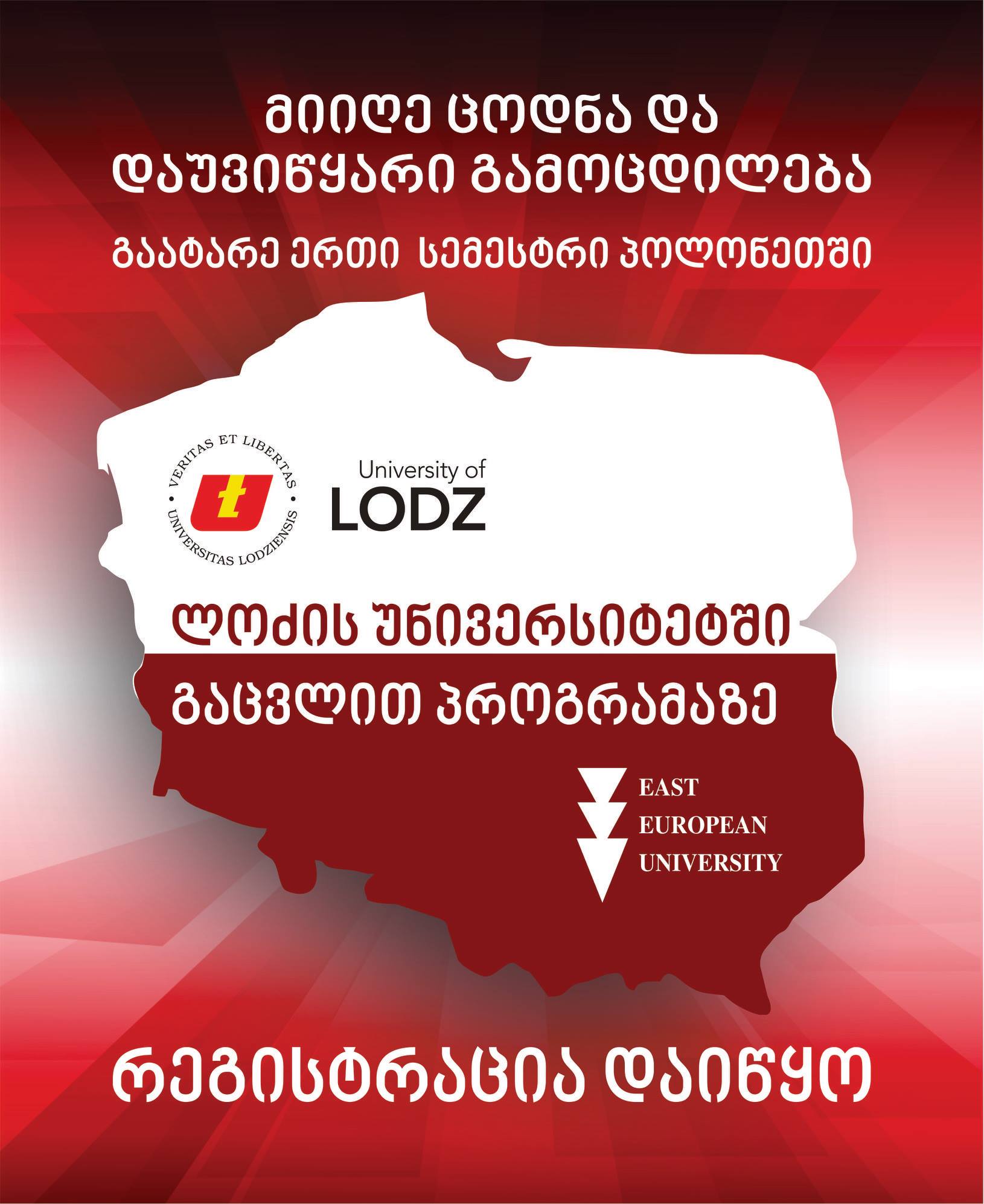 One of the best University of Poland – University of Lodz is waiting for you!
Exchange Program for East European University students at one of the best universities in Poland!
Announced registration for Exchange Program (01.10.2019- 16.02.2020) at the University of Lodz for the Autumn Semester of academic years 2019-2020. Students of East European University are given the opportunity to participate in the exchange program and spend one semester in Poland, get knowledge and unforgettable experience at University of Lodz, the partner of East European University.
University of Lodz is one of the best and largest universities in Poland. The University has 12 faculties and has over 32,000 students. University of Lodz is one of the six Polish universities that have reached the World Ranking of QS Universities. More information about University of Lodz is available on the following link: https://iso.uni.lodz.pl/
Any student of the Bachelor's and Master's Program in East European University, who has English language level B2, has the right to participate in the exchange program.
Within the framework of cooperation between East European University and University of Lodz, EEU students will have opportunity to study in Poland for one semester with university financing. Within the exchange semester the student must choose at least 24 credits. The list of the elective subjects can be found on the following link: http://iso.uni.lodz.pl/erasmus/programmes/ .
The cost of the student's expense within the exchange program is only the cost of travel and living expenses (dormitory – 70-100 EUR per month, meal and pocket money 200-250 EUR per month).
For the registration on exchange program, the interested students should send a CV and English Language Certificate (if any) before June 5 of the current year on the following e-mail address: international@eeu.edu.ge
EEU students, who register till June 5th and successfully pass the English language test (B2 level), will be able to participate in the exchange program.
English language Tests will be held on June 7 of current year.
Good Luck!