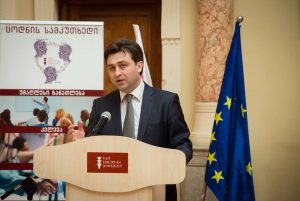 David Cherkezishvili
– Doctor of Business Administration, Master of Private Law, Rector of East European University. Author of Scientific Articles, participant and co-organizer of international scientific conferences and seminars.
Dear Students and Prospective students,
I am pleased to invite and meet you at East European University!
East European University strives to implement international standards of education in teaching and research, to create an outstanding educational institution in Georgia.  EEU is authorized and the programs are accredited by National Center for Educational Quality Enhancement. Four faculties carry out 18 programs on Bachelor, Master and PhD level.
East European University gives you the unique possibility to get Double degree diploma from Great Britain and France, namely from Sunderland and Grenoble Universities. East European University programs are based on west European leading University programs, considering their experience and demands of the modern labor market. In the learning process we use modern teaching methods and technologies that are performed by professionals. You will receive practical knowledge, which will lead you to your success and future employment.
We strongly believe that EEU programs guarantee your future success and the years spent at EEU will be productive and notable for you.
Sincerely,
Dr. David Cherkezishvili
Rector