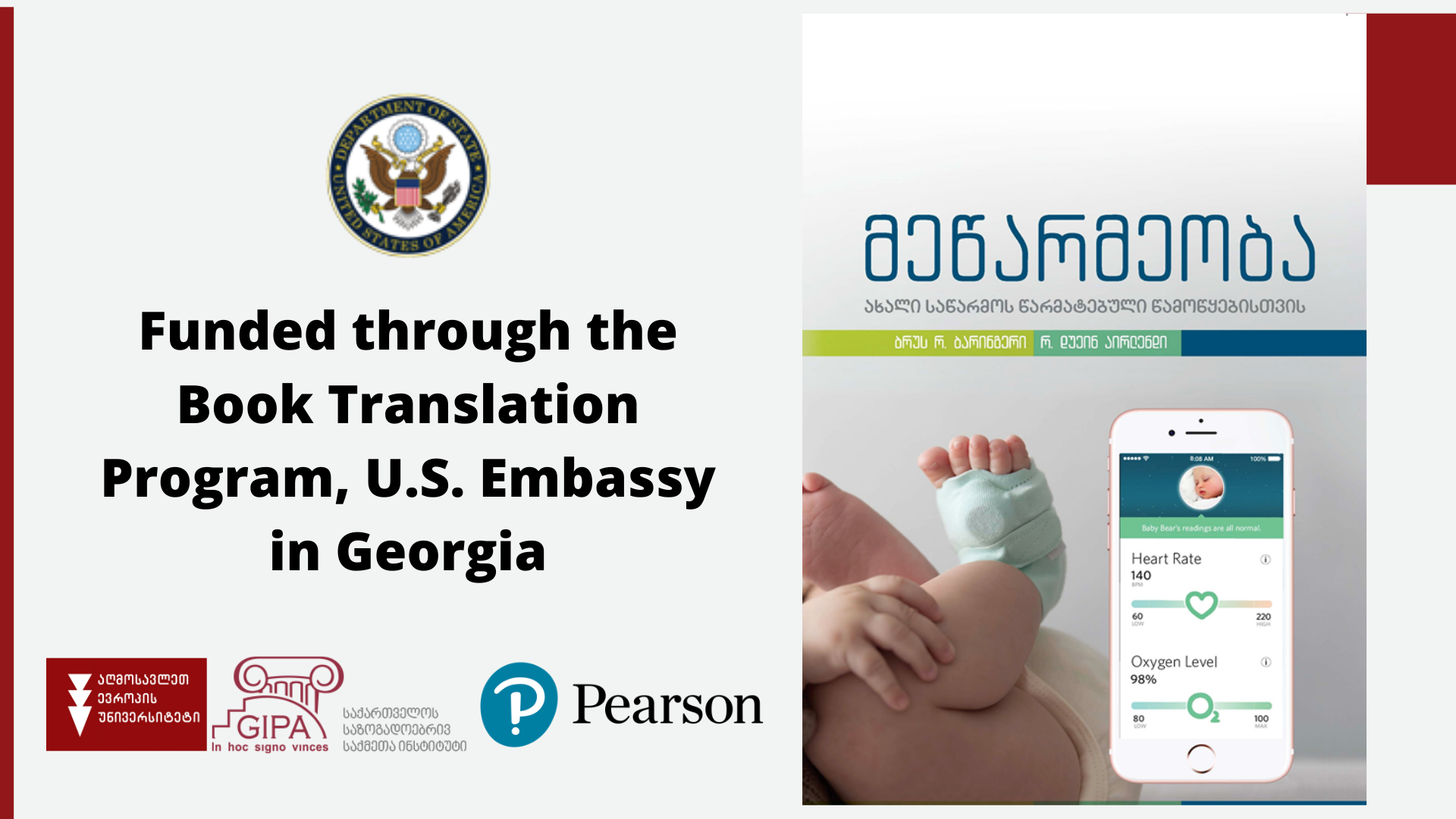 Book – ''ENTREPRENEURSHIP: SUCCESSFULLY LAUNCHING NEW VENTURES'', SIXTH ED.  Authors: Bruce R. Baringer and R. Duane Ireland, PUBLISHER: PEARSON, 2018,) translated into Georgian language has been published''.
Georgian translation of the book was carried out by the project winner organizations East European University (EEU) and Georgian Institute of Public Affairs (GIPA) funded through the Book Translation Program, U.S. Embassy in Georgia.
On behalf of the universities (EEU & GIPA) we would like to express gratitude towards U.S. Embassy in Georgia for having such unique opportunity of participating in the grant project.
Book Translation Program was fulfilled by:
✔ Shalva Machavariani –Principal Investigator, Scientific Editor (EEU)
✔ Natia Tchigvaria– Co-investigator, Researcher/ Translator (GIPA)
✔ Mikheil Tokmazishvili – Researcher/Translator (TOU & EEU)
✔ Natia Tchigvaria – Researcher/Translator (GIPA)
✔ Nikoloz Abuashvili – Researcher/Translator (GIPA)
✔ Vakhtang Charaia – Researcher/Translator (GRUNI & EEU)
✔ Giorgi Gaganidze – Researcher/Translator (TSU)
✔ Gela Grigolashvili– Researcher/Translator (EEU)
✔Zhana Antia – Researcher/Translator (GIPA)
✔ Tatia Gherkenashvili – Technical Editor, Project Coordinator (EEU)