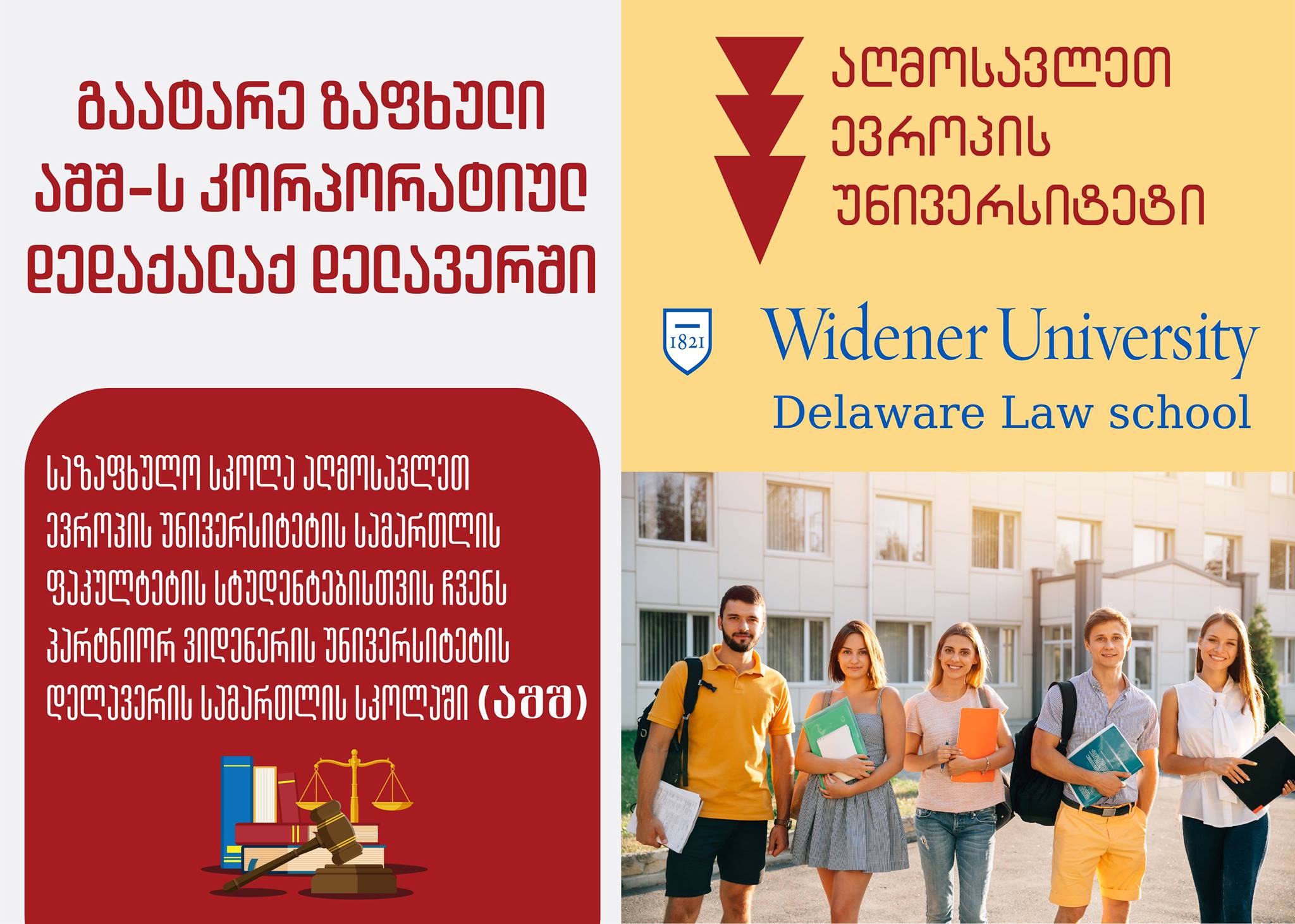 Summer School for the students of the Law Faculty of East European University in Delaware Law School of our partner Widener University (USA)!
⚖ Delaware Law School was founded in 1821 and has been holding the one of the leading places in the US.
For more information about law school, follow the link: https://delawarelaw.widener.edu/
The Summer Program of Delaware Law School is intended for local and international law students.
Within three-week program students will learn about the US legal system, lawmaking process and other current legal issues.
Summer school programs:
Program 1 (17 June – 8 July, 2019)
Modern challenges in corporate and business law, human dignity and honor rights, Environmental law
Program 2 (8 July – 29 July 2019)
US legal system
Anti-corruption law
Program 3 (29 July – 19 August 2019)
US Constitutional Law
International corruption and money laundering
Legal English (17 June – 20 June 2019)
These courses will help students get better acquainted with the international legal challenges as well as in solving internal legal problems.
Within the course of the course, educational excursions will be held:
Washington;
National Constitutional Center, Philadelphia, Pennsylvania; UN, New York;
One program fee: $ 4500. The fee includes:
Certificate;
Educational excursions and expenses of living.
Two program fee is 6500 USD. The cost of three program is 8500 US dollars. Four program fee is $ 10000.
Legal English Course fee is 500 USD.
Students are allowed to pass several programs simultaneously.
Any student of the Faculty of Law at East European University, who has English language skill at B2 level, shall be entitled to participate in summer school.
For the registration in summer school, the interested students should send a CV and English Language Certificate (if any) before 5th of May of the current year on the following e-mail address: international@eeu.edu.ge.
EEU students, who registered till May 5th and successfully passed the English language test (B2 level), will be able to participate in the summer school.
Good luck!