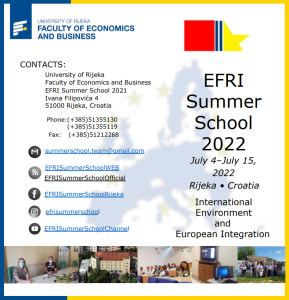 The Faculty of Economics and Business in Rijeka (EFRI) is organizing the International Summer School – «International Environment and European Integration», which will be held from July 4 to July 15, 2022, in Rijeka.
The goal of the EFRI Summer School is to broaden the knowledge of students of economics, law, political sciences, and other related studies on the economic integration process in Europe and its effects on business and to point out the advantages and challenges of economic integration in everyday life.
International summer school is open to undergraduate and postgraduate students of economics, law, and other social studies.
Participants will be awarded 6 ECTS credits, after successful completion of the program.
EFRI Summer School 2022 will be held in HYBRID FORM – ONLINE and ONSITE. 
The official language is English.
Application is available through the ONLINE form. 
The application deadline is June 15.
For further information about the summer school, please visit the official website.