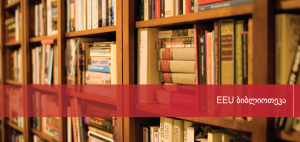 Library is a structural unit of the University, which provides all kinds of personnel and students with modern books, as a kind of electronic and digital media resources.
An important part of the Library resources are electronic library, which includes the literature provided by training program.
The Fund is registered in the Electronic catalog. There are more than 9500 books and digital entries in the library.
EEU library is open every day except Sunday:
Monday-Friday – 10:00 am to 19:00 pm;
Saturday – 10:00 am to 16:00 pm
Head of the Library: Gvantsa Kobakhidze
Librarian: Tamar Tavartqiladze
contact information:
T.tavartqiladze@eeu.edu.ge, EEU.Lib@eeu.edu.ge 
(032) 2 41 01 48
Attached document:
Library using instructions