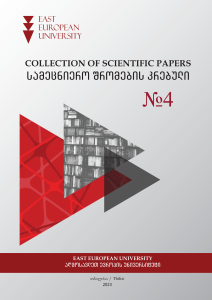 East European University'' Collection of Scientific Papers'' is a bilingual scientific publication the aim of which is to create novelty, develop science, as well as to provide access to the latest researches in various fields.
Journal is registered at the international scientific base/portals (Google Scholar, ResearchGate, DSpacenplg.gov).
EEU personnel, researchers and PhD students as well as professor-lecturers, researchers and PhD students of other higher education institutions are eligible to publish scientific articles carrying high scientific value.
Fees of Publication of scientific papers: 100 GEL
Fees related to the Publication of scientific papers of EEU academic personnel and students will be covered by East European University!
Presented papers will be published on the basis of the reviewers' recommendations and assessments.
Requested documents and Noteworthy Dates:
Deadline for receiving a notarized bilingual (in Georgian and English) scientific paper (with Abstract) – September 29, 2023
Publishing of the collection – December, 2023
Required documentation must be submitted at the following e-mail:  sciencepapers@eeu.edu.ge  Please, indicate: ''Collection of Scientific Papers N4'' in the ''subject'' line.
Documents submitted after the deadlines will not be considered!
Requirements for structuring scientific paper is available at the Appendix 1.
Good Luck!
Contact information:
Tatia Gherkenashvili, Coordinator of  the Department of Scientific Research and development of EEU.