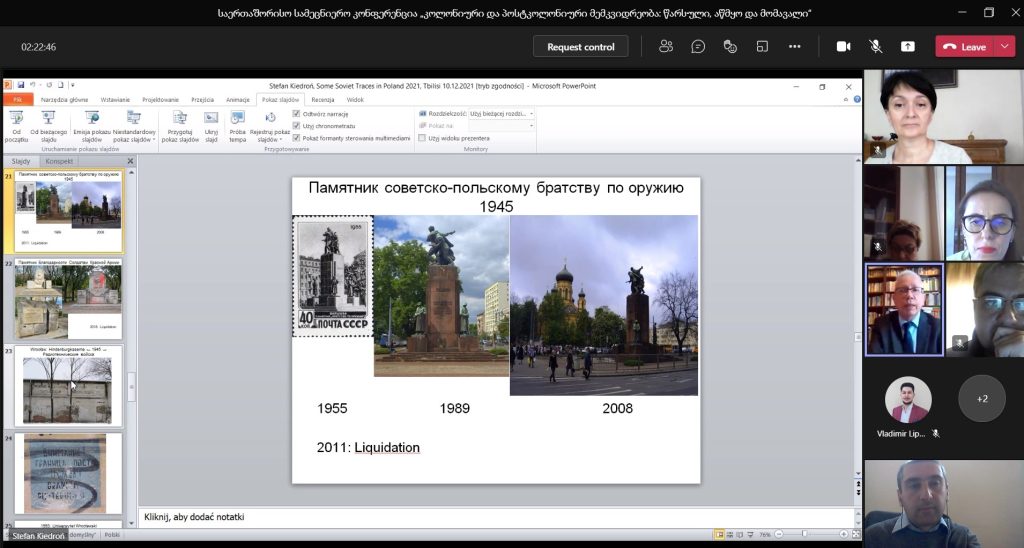 On December 9-10, online conference "Colonial and Postcolonial Heritage: Past, Present, and Future" was held by the Centre for Interdisciplinary Studies.
During the conference the following titles were presented:
Tamar Chokoraia, Caucasus University, Shaping of the anti-western narrative in Soviet literature and periodicals;
Irakli Chkhaidze, Ivane Javakhishvili Tbilisi State University, Nationalistic populism and west in contemporary Georgia;
Ana Khvedeliani, Ivane Javakhishvili Tbilisi State University, Educational conception of Georgian Democratic Republic (1918-1921);
Otar Nikoleishvili, Akaki Tsereteli Kutaisi State University, American Press of 1990-1992 about the Conflict in so-called "South Ossetia";
Vladimir Liparteliani, East European University, Soft Power Strategies of Russia and the West and their application in Georgia;
Razhden Chikhoria, Jan Kochanowski University, Political transformation of postcolonial Georgia in the context of theory of neopatrimonialism;
Lali Zakaradze, Batumi Shota Rustaveli State University, Dissident philosophy in Georgia;
Nino Chikovani, Ivane Javakhishvili Tbilisi State University, "The time we live in now started that night" (April 9, 1989);
Stefan Kiedroń, University of Wrocław, Post-Soviet traces and emotions in Poland after 1989: selected examples;
Tamar Koplatadze, Queen Mary University of London, Postcolonial tendencies in post-soviet literature;
Giorgi Tavadze, East European University, Merab Mamardashvili's thought in the context of postcolonial studies.
Conference proceedings will be published in 2022. Centre for Interdisciplinary Studies plans to organize analogous conference in the following year too.