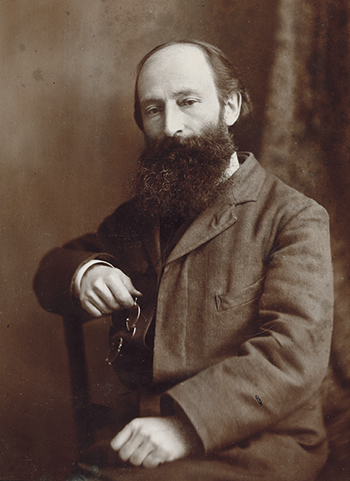 Varlam Cherkezishvili (also known as Warlaam Tcherkesoff, as he was best-known during his exile from Russia) was born to Georgian prince Aslan Cherkezishvili in Tblisi in 1846. He grew up in a country which had recently been swallowed by the Russian Empire and was educated in St Petersburg, a member of the annexed noble class. From early in his life he took a defiantly pro-independence line against the Russian throne and swiftly moved left as he reached adulthood, associating with utopian socialists who thronged the capital at the time.
Aged 20 he was an associate of Dmitry Karakozov, the first man to attempt the assassination of Tsar Alexander II and in 1868-69 abandoned his studies entirely, moving to Moscow so he could engage in revolutionary activity full time. In Moscow he joined the Nechayev group of student social revolutionaries, being heavily influenced by Mikhail Bakunin, and was arrested twice between 1866 and 1869, eventually being linked to a nationwide plot against the government. Imprisoned at the Peter and Paul Fortress in 1871 (where prominent Russian anarchist Peter Kropotkin would also be jailed a year later) he was exiled to Tomsk, Siberia in 1874 where he propagandised among the other prisoners.
Cherkezishvili escaped to Western Europe in 1876 where he joined a substantial diaspora of exiled Russian radicals, joining up again with Kropotkin who had escaped from Peter and Paul. After a short period of activity, following the arrest of Kropotkin in 1882 he retired from front-line work and in 1892 moved to London, where he became a mainstay at Freedom anarchist newspaper writing a number of influential texts, in particular critiquing Marxism.
Cherkezishvili was always active in the East End of London as a Russian speaker and lecturer on almost every important occasion for 25 years; whilst his English, always good enough for reading purposes, was cultivated in the Freedom Group and in many serious talks which he had with those English socialists and trade unionists who seemed disposed to open their eyes on anti-Parliamentary and syndicalist subjects. He did much quiet work in this respect.
His personal life in the 1890s was one of great poverty and privation, which he underwent cheerfully, but which at one time seriously undermined his health, he had to leave London to recuperate on the shores of the Lake of Geneva, and he passed a winter in the Orient, visiting his homeland Georgia at great personal risk, but returning safe and well. By and by a number of young Russians in Geneva, Paris, and London, inspired by Cherkezishvili's direct propaganda and the writings of Kropotkin, became greatly interested in anarchism.
A young Georgian student in Geneva, Georgi Goghelia, a man of great initiative, courage, and steadiness, printed many anarchist pamphlets in Geneva, also the paper Chleb i Volia (Bread and Freedom), August 1903, to November 1905. These young Russians of the three cities mentioned and other places held their first private conference in London in Cherkezishvili's room; and the London Russian paper Listki Chleb i Volia (Leaflets of Bread and Freedom), October 30th 1900, to July 5th 1907, in which Kropotkin took a most direct part, like the Kropotkin translations and other volumes, mark the first definite efforts of present-day Russian anarchism, so closely connected with Cherkezishvili and Kropotkin.
At times in the 1890s Cherkezishvili visited Brussels, where besides Elisee Reclus he used to meet Professor Ernest Nys, a sympathiser of all advanced movements, who, being an expert in international law, gave useful hints to him how to present the Georgian claims as based on the treaty of 1783 between Eastern Georgian Kingdom of Kartl-Kakheti and Russian Empire. At other times he visited Domela Nieuwenhuis in Amsterdam, from where, in 1899, he returned with yet another discovery, superior in reliability and benefit to himself to Considerant's otherwise excellent Manifesto, also discovered at Domela's — namely, his excellent wife (Frida), who became his most devoted mate and comrade. From that date Cherkezishvili, after over 30 years' exposure to a much-battered, often very precarious life, had a friendly, well-ordered home, and this prolonged his life and restored his spirits, from which, despite all his cheerfulness and rose-coloured views, melancholy was not quite absent, and revived also a deep longing for the South as he knew it in bright, wine-growing, sun-bathed Georgia. From now he sometimes mode trips to Paris, where, having been expelled in 1881, he had to be very careful, but always felt so very happy and rejuvenated.
The amnesty after the Russian revolutionary events of October 1905 made it possible for him to return; and with his wife he travelled in 1906-7 over the principal parts of Russia, settling in Tifiis, whence, as told above, he departed in 1907; and for pleading for Georgia before the Hague Conference he saw himself become an exile again. [NB// he had helped to organise a 3,000-strong petition against Tsarist oppression which was presented at that year's International Peace Conference, to little effect].
In the years 1907 to 1914 he and his wife were once more the close friends of the Kropotkin family and devoted comrades of the Freedom Group and other forms of anarchist activity; so he brought out a Russian volume of Bakunin's Selected Works, with a biography (London, 1915, vl., 339 pp.).
Cherkezishvili and Kropotkin supported Allies in the First World War, sparking what became a full-on split between pro and anti-war anarchists culminating in the attempted ousting of anti-war Freedom editor Tom Keell, the Manifesto of the Sixteen and the sidelining of both men from British anarchist politics.
The definite Russian Revolution of 1917 brought Tcherkesoff and his devoted wife back to Georgia, which then for some time apparently realised what Tcherkesoff probably had never expected to see — her independence as a Georgian national Republic. But very soon (in February 1921) Soviet Russia invaded Georgia and the short-lived independence was over.
Cherkezishvili left the Caucasus some time in 1918 or 1919, probably after the formal end of the War, and lived in London, if not also in Paris; but early in 1921 he returned to Tilils with his wife, and then witnessed a period of Bolshevist terror and economic depression and disorganisation, which made life very sad and practically intolerable for the old man — for though one seldom thought of his age, he was 75 at that time. He may not have been interfered with personally and was allowed to leave the country again, but he saw and — since he settled again in London — he heard of the misery, often the death by governmental cruelty or by privation, of most of his friends. These cruel facts embittered Cherkezishvili's last years. He died in London in 1925 and is buried there.
Source: Pioneers of anarchism: Varlam Cherkezishvili (Tcherkesoff)*
https://freedomnews.org.uk/pioneers-of-british-anarchism-varlam-cherkezishvili
*Note: The original text is abridged and slightly changed.